Our September 2022 stock market Momentum Indicator looks Bearish!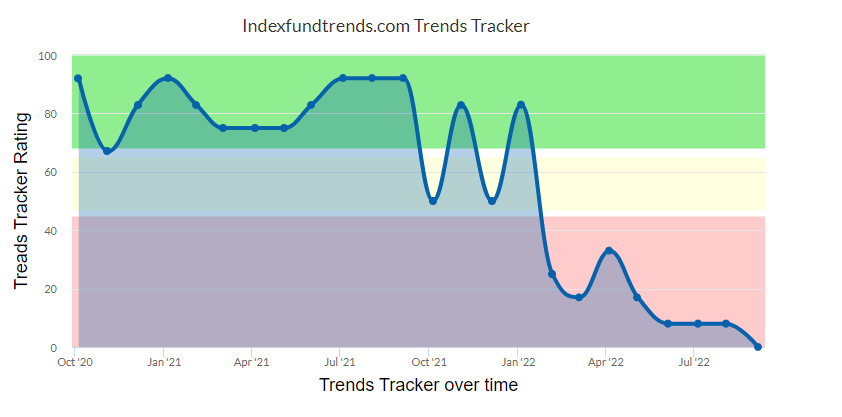 Many investors are concerned about the future direction that stocks and ETFs are heading, based on recent stock market volatility and ETF performance.
This is not surprising considering that the NASDAQ 100 (QQQ) index is down approx 26% and the S&P 500 index (SPY) is down over 17% Year-to-date ( as of 02-SEP-22).
Indexfundstrends.com uses a proprietary tracker of momentum we call our Trends Tracker as a indicator of where overall stock market momentum stands at any point in time.  It is a composite measurement of momentum across more than 10 different world wide broadly based index funds.
As can be seen above by the snapshot of our Trends Tracker on September 1st 2022, momentum has largely left the stock market.  
This does not bode well for future returns of the index funds we follow.  Most of the strategies at indexfundtrends.com have moved money to safe investments a few months ago.  To see for yourself, consider a Free or Premium membership to our site.
Get our FREE Strategy updates next month!
Sign-up today
Learn more about our Investment Strategies and view current recommendations